Is your Child Struggling with their Writing?
Discover Writing Club - The Personalised Roadmap to Higher Writing Scores for Your Child!
Your child gets access to members-only masterclass videos, drop-in writing practice sessions & scoring with feedback. Covers creative and persuasive writing. Perfect for NAPLAN & Selective School Tests and Scholarship Entrance Exams Preparation.
Find a Writing Club To Join Now
It's Incredible! - Here's Proof that Writing Club Works!
Writing Club: Personalised Learning = Genuine Writing Improvement!
---
Real improvement doesn't come from generic classes with no valuable feedback—real writing improvement comes from Writing Club where your child gets a specially designed plan to help them improve.
In July 2017, a parent sent me an email that said "But his writing skill is very poor. He had been to few English tutoring but no improvement at all". Unfortunately, this is not a once-off incident. I get emails like this from parents all the time. It highlights a big problem with your standard tuition. If your child has strong writing skills, your child will be held back going over things they already know. If your child needs help, in large group classes, they won't get the attention they deserve.
In both instances, you waste your money and your child wastes their time.
After all, in large group classes by other tuition providers, your child is just one of many.
In Writing Club, your child is the one we look after. In fact, writing club is based around your child.
Your child's personal mentor will go in detail to uncover why your child's writing is not at a high standard. From these results, they will formulate a fool-proof roadmap, specially designed for your child's needs. This is because every child is unique and we cater for your individual child. So how does it work? It's simple. First, your child's writing is
assessed in detail
. Then, your child's personal mentor will formula a roadmap for your child to complete. This roadmap includes going through masterclass videos, writing prompts to practice on and it will suggest the best drop-in writing practice sessions to attend. Through learning, practice and feedback,
your child will improve their writing
. Our past writing club students have improved and
here's proof
, so why hold your child back? Your child can access writing club anywhere where there's a computer with Internet access. Access to writing club is through one low price month-to-month and there are no lock-in contracts. The benefits are:
Losing Marks in the Writing Test?
---
It's the hardest test to do well in and the easiest test to lose marks in. People don't realise this until they get the Rejection Letter or worse still, Fail their Test!
Why is the written expression test or writing sample of any major exam like NAPLAN, selective school entrance exams, scholarship tests hard? Because there are
over 5 MAJOR ways you can lose marks
! A good writing piece doesn't just need good grammar and spelling. It also demands:
Appropriate structure e.g. a creative piece differs structurally from a persuasive writing piece. Using the wrong structure can = fail.
Correct interpretation of the question For example, a question that asks you to write an argumentative writing piece on "Global laws should be in place to prevent whaling" is often misinterpreted by students who write about "Whaling is bad". Incorrect reading of the question leads to quick loss of marks.
Excellent expression to fluently convey the message. Poor expression results in marks being lost.
Proper use of tenses so the writing pieces flows well. With tenses that jump from the past to the present, a writing piece becomes extremely confusing to read. I've seen this a lot and it's something that can be easily prevented!
Ordering so that readers can follow a sequence of events. So many times, I read stories which are disjointed and not correctly ordered. If your story doesn't have a clear order, your child is losing out on easy marks!
But... Many students hardly improve their writing, even with best intentions. Why?
Because they're doing their writing test preparation in an ineffective and time-wasting way!
Common things parents and students think improve writing (but
don't really lead to any solid and real improvement
) are:
Practicing 100s of writing prompts without any review or feedback - Parents and students mistakenly believe that to improve you have to practice on hundreds of writing prompts or questions. What happens is, when one writing piece is done, it isn't reviewed for quality and then another writing piece gets done and so on. This practice, though common, results in nil to little improvement. More dangerously, the thing with practicing on 100s of questions without review is that it ingraines bad habits which then are even more harder to fix! With writing, quantity does not equal quality.
Fill-in-the-blanks grammar and spelling exercises - Grammar and spelling exercises like these simply don't cut it when an exam requires you to write a full-length piece. Imagine writing a full writing piece in your exam as building a house, if you're just doing grammar exercises, all you're doing is equivalent to improving the quality of a particular piece of that house e.g. the house's bricks. If you're spending all your time doing grammar exercises (i.e. improving the quality of the bricks), you're ignoring the major thing - that's how to write the full essay.
Improve Writing the Smart Way With Writing Club
---
There are multiple problems your child may face when you first try to improve their writing. Their writing may be confusing, not well expressed, lacking the right punctuation and/or grammar, not related to the prompt, and the list goes on… Each of these areas needs to be targeted on their own. A child with structuring problems only but great expression may only need to clarify his or her thoughts and once this is fixed, they'll be able to write a great written expression piece. This is a problem with planning so going to a generic class about writing in general is not going to help. Every student is different. Your child is different. This isn't just a story, it was a real problem a former student of Exam Success had. He had gone to many other tuition classes and spent countless hours learning what he had already been good at. His writing didn't improve because his weak area – planning and structure, was being ignored. When his writing was assessed, we started to work on his planning and this student improved his writing. He ended up with a scholarship, and then was selected into Melbourne High School, a prestigious selective school in Melbourne. With writing, students should be free to work on their weak points rather than spend time going over things they already know. Exam Success' writing club works on getting the results you want to see through assessment, practice and feedback. Think about when you first learnt how to drive. If you got into a car after reading the manual or attending a class where you're taught how to drive but didn't practice it, you'd most likely struggle. However, having someone there that can guide you when you're actually in the car can help you become a better and safer driver. That's what writing club is. Your child is supported by a personal mentor who can plan out step-by-step what your child needs exactly to improve their writing. Your child gets members-only access to learning materials so that they can finally improve their writing. To improve your child's writing – it's not a one size fits all class situation. To improve your child's writing Exam Success' writing clubs follow five steps to get real improvement in your child's writing.
What's the problem? Writing club highlights the weak areas in your child's writing through their in-detail assessment (check out 4-page sample Exam Success writing assessment report).
How to improve? With writing club, your child gets their own personal mentor who develops a personalised writing improvement roadmap - specially for your child.
Doing the work to improve your writing. This is what your child does – they go through masterclass videos, attend practice sessions and practice their writing on writing prompts.
Getting feedback. Our feedback is straightforward. Your child will know exactly what area they need to improve on, why that area is currently not up to standard and what to do to get it up to standard.
Repeat and reassess. Your child gets feedback, implements it and continues practicing. Practice (with feedback) makes perfect.
Here's an email we got (in 2017) from parents of a student selected into Brisbane State High School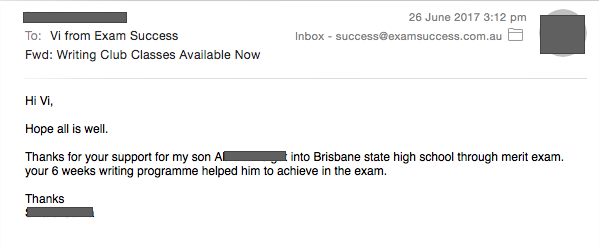 Here's proof that writing club works:
Want to see how writing club work?
---
Find a Writing Club Plan That's Right for Your Child.
All plans come with a personal mentor. Only pay month-to-month.
---
Here are some Free Writing Improvement Videos...
---
Writing Club FAQs by Real People...
What are the terms and conditions of writing club?
You can find our general terms and conditions on the website and specifically, additional terms and conditions relating to reading and writing clubs can be found in the FAQs sections and here.
How does it work after I order?
After your order, you'll be sent an email with your log in details. You can download and start your assessment. Once you get your assessment and your roadmap, you'll be able to book in sessions, do your essays and view masterclass videos straight from your dashboard.
What does the personal mentor do?
The personal mentor is there to suggest masterclass videos, classes and writing prompts that would best suit your child given their assessment. This is so that your child is focused on the learning they need to improve their writing. The personal mentor doesn't provide tuition, but can help you and your child with general questions and any concerns. All personal mentors are A+ tutors and have a valid working with children check or are state licensed teachers.
What technology do I need in order to join Writing Club?
You'll need:
A computer (desktop/laptop) with access to good internet connection.
A microphone (many computers have built in microphones or some phone headphones have a microphone built in).
Speakers (again, many computers already have this built in or you can use headphones).
Where is Writing Club's study group held? What system do you use and can people interact through it with microphone instead of typing? Will they be able to interact with the tutor as well?
Writing Club is held online. The platform we use for writing club practice sessions is similar to Skype, except that you don't have to install anything - you just click a link and that's it! It allows real-time interaction with tutors and students via microphone and chat - think about it as an online classroom. For student's essays ranking and feedback and our masterclass videos, we use our own in-house designed platform which has the ability to rank students' essays and break down their score in different criteria as would likely be assessed in the exam.
Can this be only done for exams or can it be done for general improvement?
Writing Club can be done for general improvement aswell as exams. In fact, Writing Club can help you maintain and build up your writing skills over time. Remember writing is a creative skill and it takes time to build up this skill. Think about tennis, in order to improve, you keep practicing. It's the same with writing.
When should I start writing club compared to the date of my exam?
This really depends on your writing level. If you're getting Cs, I'd start at least a year before and if you're getting As then probably 2-3 months prior would be good. Remember, that Writing club is ongoing and writing improves with time so the earlier the better - you can also do it as regular program and extend each time.
How does access work?
Writing Club is accessed through a monthly payment. You pay for each month of access.
Does my access to videos, practice sessions and writing feedback carry through if I don't use them in that month?
Access to videos and writing feedback carry over and accumulate if you don't use it. However, access to the tutor-led practice sessions reset every month. If you don't use your available practice sessions in a month, they are forfeited.
Are there refunds if you don't use your access?
Your subscription pays for access, not usage. Your subscription is automatically renewed on the first day of each month. If you do not wish to continue with writing club for any reason, you can cancel your subscription and cancellation will be effective from the month after the current month of your cancellation request. Your subscription fees for the current month are generally non-refundable, subject to law. If you plan to take a break from writing club, you can simply pause your subscription and that will stop charges for months after the current months for your pause duration.
What if I don't need writing club for a specific month because I'm going on holidays? Can I pause it?
Of course! If for any reason you need to pause writing club, you can do so. Pausing your subscription will be effective from the month that follows the month when the request is made.
What happens to my access if I pause or cancel?
If you pause your plan, you will not be able to access any videos, practice sessions or writing ranking and feedback during the pause period. You will be able to access your learning resources that were still outstanding once your pause period has stopped. If you cancel your access, you will not be able to access any videos, practice sessions or writing ranking and feedback.
Who tutors my child in the practice sessions? Are they qualified teachers?
Our tutors have a valid Working with Children Check or relevant state based teacher license. We don't select qualified teachers if they do not pass our selection process and in the past, we have chosen high achieving individuals over qualified teachers. This is because we look at ability rather than just a qualification. ATAR scores that are accepted in some university courses to become a qualified teacher are below a pass rate (ATAR 30-50) - see this article from The Australian (2016). Your child deserves to learn from someone who has achieved at a high level themselves. Therefore, we select tutors based on real demonstrated ability to write and teach and each tutor goes through a rigorous selection process. Every tutor I personally select is someone I would want to tutor my own child.
Who ranks and gives feedback to my child's essays and how regularly is it checked?
One of our tutors who has passed our selection process will rank and give feedback to your child's submitted essays. We aim for a 72 hour turnaround time.
How many masterclass videos are there to choose from and how long is each masterclass video?
On 1 October 2017, there will be 96 masterclass videos that you can choose from and each video is at least 30 minutes in duration. There will be 46 masterclass videos covering argumentative/persuasive writing, 46 masterclass videos cover creative writing and 1 masterclass video each on time strategy and major tips for each of NAPLAN Year 3 & 5, NAPLAN Year 7 & 9, Selective schools tests and scholarship test.
How do I book in a drop-in writing practice session?
Through your dashboard, you'll be able to book in sessions that suit your schedule. You are able to book in a class more than 48 hours prior to it commencing.
What happens in a drop-in writing practice session?
A practice writing session is one where your child will be given a prompt, write a paragraph and given feedback along with participating in analyzing writing. There is no theory taught (that's done in the masterclass videos) but rather, the practice session is about practicing your writing and getting real time feedback, along with editing the writing other others. Drop-in writing practice sessions go for an hour and maximum attendee size is 4 students plus the tutor.
Is there any homework from the practice sessions?
The practice sessions are stand-alone sessions where students work on their writing and editing skills. There is no homework set that is to be completed after the session and then corrected in future sessions as each session is independent of each other. The writing prompts with ranking and feedback that your personal mentor allocates can be considered 'homework'.
What happens with writing ranking and feedback? Is it anonymous?
Writing pieces, ranking and feedback is publicly available, however, when you sign up, we allocate an anonymous username to your account so that you're not publicly identified. You can change this name to anything you like that is appropriate.
Have a question? Get in touch