A+ Writing Improvement Program - Get Higher Scores!
ACE your writing test with:
Masterclass Videos + Expert Writing Insight & Feedback into Your Writing
Covers creative & persuasive writing. Perfect for NAPLAN & Selective School Tests and Scholarship Entrance Exams Preparation.
Find a Writing Club To Join Now
It's Incredible! - Here's Proof that Writing Club Works!
Losing Marks in the Writing Test? Well... Writing Improvement is hard!
---
In July 2017, desperate parents sent me an email that cried out "But his writing skill is very poor. He had been to few English tutoring but no improvement at all". These parents were stressed out because they had continually seen their child struggling in what is considered one of the most important subjects around. Without the ability to help their child themselves (as their English wasn't good), they felt hopeless. And moreover, the hard-earned money they spent to help their child through tutoring, wasn't providing any results.
Unfortunately, this is not a once-off incident.
I get emails like this from parents all the time. It highlights a big problem with your standard tuition.
If your child has strong writing skills, your child will be held back going over things they already know. If your child needs help, in large group classes, they won't get the attention they deserve.
In both instances, you waste your money and your child wastes their time. After all, in large group classes by other tuition providers, your child is just one of many.
Writing club focuses solely on writing practice and feedback.
Real improvement doesn't come from generic classes with no valuable feedback—real writing improvement comes from Writing Club where your child gets regular practice and feedback. Stop losing marks and start gaining them with Writing Club—a program of regular writing practice and feedback.
See available writing clubs to join & start seeing real writing improvement.
How does writing club work?
---
It's simple! Here's how writing club works in 3 steps:
Within writing club and depending on the plan selected, you can expect to receive:
Masterclass videos - 96 dedicated writing videos will help you ace your writing test. Masterclass videos that target your weak areas will help improve your writing and there are videos covering different areas from structure to expression with some even including templates for you to print out and keep.
Expert Writing Insights - Our unique writing feedback software gives your writing a ranking along with feedback on weak areas and tips on how to improve it. It's this feedback that's invaluable when you want to know where exactly your writing falls short, what to improve on and how. See an example here.
Start your writing improvement - Find a writing club plan now!
Proof that Writing Club Works!
---
Writing club is a program that works to improve your weak points by specifically assessing your writing in detail through expert writing insights and making masterclass video recommendations that are useful.
Through a cycle of continued practice, your writing will improve.
Writing club is the smart way to improve writing!
Our past writing club students have improved and here's proof, so why hold yourself back?
An sms we received (in 2018) from a parent of a student selected into Perth Modern Selective School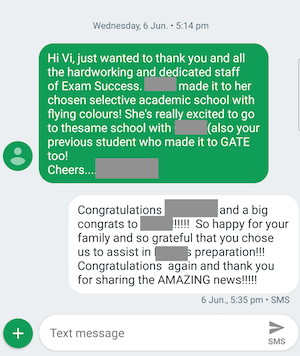 An email we received (in 2017) from a parent of a student selected into Brisbane State High School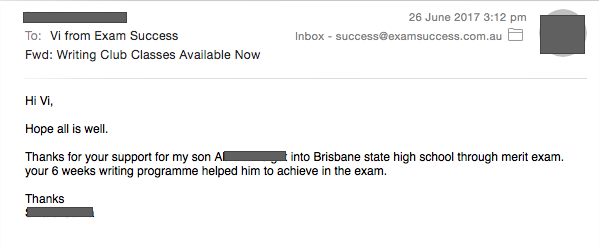 Writing improvement from score of 7 to 8 in 5 weeks in writing club...
See the results - below shows real writing by a writing club student who went from average writing with lots of telling to writing a piece that related to the prompt and had better expression... in just 5 weeks!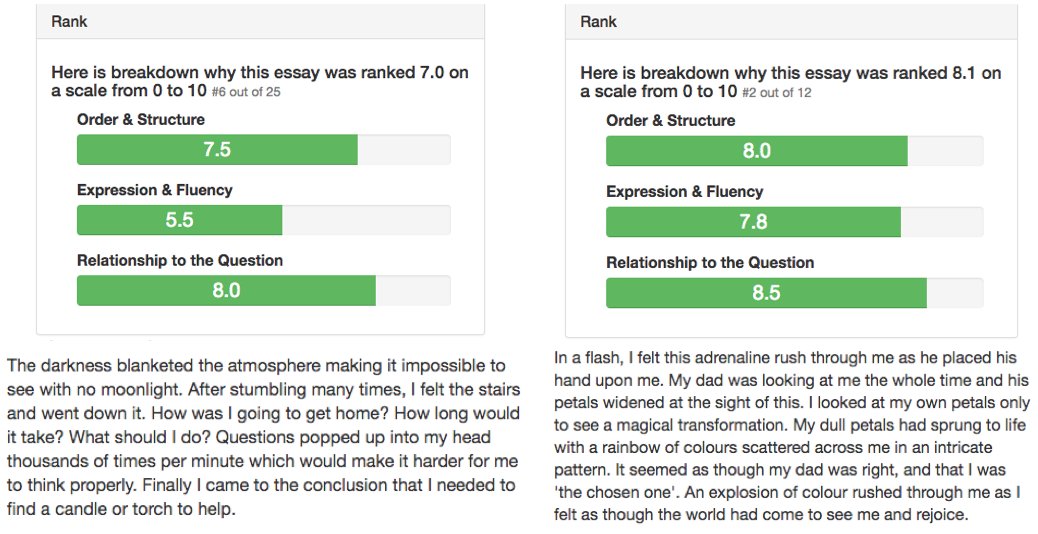 ---
Your child can access writing club anywhere where there's a computer with Internet access. Access to writing club is through one low price per cycle (a cycle is typically 31 days unless advised otherwise) and there are no lock-in contracts. We do not automatically deduct your card or extend your subscription. You have full control over whether you would like to extend and when to extend.
The benefits are:
---
Find a Writing Club Plan That's Right for You.
Only pay per cycle. No lock-in contracts and no automatic deductions. You choose when to extend your cycle.
---
Here are some Free Writing Improvement Videos...
---
Writing Club FAQs by Real People...
What are the terms and conditions of writing club?
You can find our general terms and conditions on the website and specifically, additional terms and conditions relating to reading and writing clubs can be found in the FAQs sections and here.
What are the delivery times on returning essay feedback? When can I expect to receive feedback on my essay that I submitted for ranking and feedback?
We have two essay feedback return days each week: Wednesday and Saturdays. To get your feedback by the return day, you'll need to submit your essay for ranking and feedback by 11pm of the previous day. So, for example, to get your feedback by Saturday, you'll need to submit your essay for ranking and feedback anytime from midnight of Wednesday to 11pm on Friday. If any of these days falls on an Australian national public holiday, your essay feedback would be sent on the next business day. If you require your essay feedback urgently, please get in touch and we will do our best to accommodate you.
How does it work after I order?
After your order, you'll be sent an email with your log in details and instructions on how to get started.
Can this be only done for exams or can it be done for general improvement?
Writing Club can be done for general improvement aswell as exams. In fact, Writing Club can help you maintain and build up your writing skills over time. Remember writing is a creative skill and it takes time to build up this skill. Think about tennis, in order to improve, you keep practicing. It's the same with writing.
When should I start writing club compared to the date of my exam?
This really depends on your writing level. If you're getting Cs, I'd start at least a year before and if you're getting As then probably 2-3 cycles prior would be good. Remember, that Writing club is ongoing and writing improves with time so the earlier the better - you can also do it as regular program and extend each time.
How does access work?
Writing Club is accessed through a payment per cycle (a cycle period is usually 31 days unless advised otherwise). You pay for each cycle period of access.
Does my access to videos, practice sessions and writing feedback carry through if I don't use them in that cycle?
No. Access is per cycle and by subscription. There are no carry overs.
Are there refunds if you don't use your access?
Your subscription pays for access, not usage. After the end of the cycle period, your access stops and if you wish to renew, you just click on the extend access button and you can upgrade or downgrade your plan. Your subscription fees for the current cycle are generally non-refundable, subject to law.
What if I don't need writing club for a specific cycle because I'm going on holidays? Can I pause it?
Of course! At the moment, writing club is paused after the cycle period ends. If you're on holidays, just don't click extend access for that next cycle.
What happens to my access if I pause or cancel?
If your plan is inactive (not extended), you will not be able to access any videos, practice sessions or writing ranking and feedback during the pause period. If you close your account, your learning plan will no longer be available.
How many masterclass videos are there to choose from and how long is each masterclass video?
There are 96 masterclass videos that you can choose from and each video is at least 30 minutes in duration. There will be 46 masterclass videos covering argumentative/persuasive writing, 46 masterclass videos cover creative writing and 1 masterclass video each on time strategy and major tips for each of NAPLAN Year 3 & 5, NAPLAN Year 7 & 9, Selective schools tests and scholarship test.
What happens with writing ranking and feedback? Is it anonymous?
Writing pieces, ranking and insights through Expert Writing Insights is publicly available, however, when you sign up, we allocate an anonymous username to your account so that you're not publicly identified. You can change this name to anything you like that is appropriate.
Icons used in this page made by
Roundicons
from
www.flaticon.com
is licensed by
CC 3.0 BY
---
---