A+ Writing Improvement Program to Give Your Child Practice & Valuable Feedback!
Access writing club tutor-led sessions + video master classes + writing ranks & feedback!
Covers creative & persuasive writing. Perfect for NAPLAN & Selective School Tests and Scholarship Entrance Exams Preparation.
Find a Writing Club To Join Now
It's Incredible! - Here's Proof that Writing Club Works!
Losing Marks in the Writing Test? Well... Writing Improvement is hard!
---
Real improvement doesn't come from generic classes with no valuable feedback—real writing improvement comes from Writing Club where your child gets regular practice and feedback.
In July 2017, a parent sent me an email that said "But his writing skill is very poor. He had been to few English tutoring but no improvement at all". Unfortunately, this is not a once-off incident. I get emails like this from parents all the time. It highlights a big problem with your standard tuition. If your child has strong writing skills, your child will be held back going over things they already know. If your child needs help, in large group classes, they won't get the attention they deserve.
In both instances, you waste your money and your child wastes their time.
After all, in large group classes by other tuition providers, your child is just one of many. In Writing Club, there is
never more than 4 students per session
. Every writing club session focuses on
writing practice and feedback
. Furthermore, your child's personal mentor will go in detail to uncover why your child's writing is not at a high standard (from the initial assessment). From these results, they will formulate a learning plan that includes writing club sessions, masterclass videos and writing prompts for your child to practice on. All selected for your child's needs. This is because your child is unique.
Stop losing marks and start gaining them with Writing Club - a program of regular writing practice and feedback.
Improve Writing the Smart Way With Writing Club
---
It's simple how writing club works. First, your child's writing is
assessed in detail
. Then, your child's personal mentor will formula a learning plan for your child to complete. This learning plan includes going through masterclass videos, writing prompts to practice on and it will suggest the best writing practice sessions to attend. The writing practice sessions provide your child with practice and feedback. They are run by our select group of tutors who have credentials such as those doing a PhD in English, ATAR of 99 and prizes in English. Through learning, practice and feedback from the right tutors,
your child will improve their writing
. Our past writing club students have improved and here's proof, so why hold your child back?
Here's an email we got (in 2017) from parents of a student selected into Brisbane State High School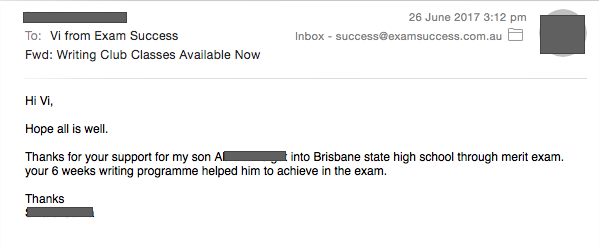 Here are results of writing improvement from writing club:
---
Your child can access writing club anywhere where there's a computer with Internet access. Access to writing club is through one low price month-to-month and there are no lock-in contracts. The benefits are:
---
Find a Writing Club Plan That's Right for Your Child.
Only pay month-to-month. No lock-in contracts.
Please note:Writing club sessions with tutors will be closed for the winter break for upgrade works from now until 30 August. Sessions for existing customers will not be affected. If you would like to pre-book for when we resume in September, please get in touch at success@examsuccess.com.au. The writing club plans below are not affected and can be purchased now.



Secure payment by Stripe - PCI Level 1 Certified & the most stringent security available.

$AU79.00 + GST per month + $AU59.00 + GST joining fee for first month only

For students who don't need sessions with a tutor but want continued feedback on their writing while learning from selected videos that work on improving their weak areas. In this monthly package, your child will access:
8 masterclass videos.
4 individual & personalized writing feedback & rankings.
Note well that this plan does not include tutor-led writing club sessions.
What happens after you purchase?
First, check your email for log in details. Log in to your dashboard (go to My Purchases > My Writing Clubs) and you'll be able to download the assessment. When you complete your assessment and send it back, within 3 business days, you'll get your assessment results and your learning plan. Your access will then be activated for the month and you can start your writing club.
More information...
For students who want to write essays on our writing app prompts and get ranking & feedback on their writing. In this monthly package, your child will access:
Individual writing ranking and feedback costs $12.98 and with this package, you save over $15! and there is no joining fee on this package.
Note well that this plan does not include tutor-led writing club sessions, an assessment and learning plan or masterclass videos. The 5 individual and personalised writing ranking & feedback are available only for the monthly period and expire (do not carry over) once your period ends.
What happens after you purchase?
Log in and select prompts for your grade level here. The system will automatically allocate you your available ranks and feedback and all you have to do is click on the green button to redeem your ranking and feedback. Ranking and feedback is anticipated to be sent within 1-4 days from clicking the green button.
More information...
---
Here are some Free Writing Improvement Videos...
---
Writing Club FAQs by Real People...
What are the terms and conditions of writing club?
You can find our general terms and conditions on the website and specifically, additional terms and conditions relating to reading and writing clubs can be found in the FAQs sections and here.
How does it work after I order?
After your order, you'll be sent an email with your log in details. You can download and start your assessment. Once you get your assessment and your learning plan, you'll be able to book in sessions, do your essays and view masterclass videos straight from your dashboard.
What does the personal mentor do?
The personal mentor is there to suggest masterclass videos, classes and writing prompts that would best suit your child given their assessment. This is so that your child is focused on the learning they need to improve their writing. The personal mentor doesn't provide tuition, but can help you and your child with general questions and any concerns. All personal mentors are A+ tutors and have a valid working with children check or are state licensed teachers.
What technology do I need in order to join Writing Club?
You'll need:
A computer (desktop/laptop) with access to good internet connection.
A microphone (many computers have built in microphones or some phone headphones have a microphone built in).
Speakers (again, many computers already have this built in or you can use headphones).
Where is Writing Club's study group held? What system do you use and can people interact through it with microphone instead of typing? Will they be able to interact with the tutor as well?
Writing Club is held online. The platform we use for writing club practice sessions is similar to Skype, but better! It allows real-time interaction with tutors and students via microphone and chat - think about it as an online classroom. For student's essays ranking and feedback and our masterclass videos, we use our own in-house designed platform which has the ability to rank students' essays and break down their score in different criteria as would likely be assessed in the exam.
Can this be only done for exams or can it be done for general improvement?
Writing Club can be done for general improvement aswell as exams. In fact, Writing Club can help you maintain and build up your writing skills over time. Remember writing is a creative skill and it takes time to build up this skill. Think about tennis, in order to improve, you keep practicing. It's the same with writing.
When should I start writing club compared to the date of my exam?
This really depends on your writing level. If you're getting Cs, I'd start at least a year before and if you're getting As then probably 2-3 months prior would be good. Remember, that Writing club is ongoing and writing improves with time so the earlier the better - you can also do it as regular program and extend each time.
How does access work?
Writing Club is accessed through a monthly payment. You pay for each month of access.
Does my access to videos, practice sessions and writing feedback carry through if I don't use them in that month?
No. Access is per month and by subscription. There are no carry overs.
Are writing club sessions held through school holidays and public holidays?
Writing club tutor-led sessions are held throughout the year but not on official national public holidays.
Are there refunds if you don't use your access?
Your subscription pays for access, not usage. After the end of the month, your access stops and if you wish to renew, you just click on the extend access button and you can upgrade or downgrade your plan. Your subscription fees for the current month are generally non-refundable, subject to law.
What if I don't need writing club for a specific month because I'm going on holidays? Can I pause it?
Of course! At the moment, writing club is paused after the month of your subscription. If you're on holidays, just don't click extend access for that month.
What happens to my access if I pause or cancel?
If your plan is inactive (not extended), you will not be able to access any videos, practice sessions or writing ranking and feedback during the pause period. If you close your account, your learning plan will no longer be available and if you choose to join later, you will have to pay the joining fee again.
Who tutors my child in the practice sessions? Are they qualified teachers?
Our tutors have a valid Working with Children Check or relevant state based teacher license. They are high achievers and some of their credentials are ATAR 99, PhD in English, winner of Ian MacGregor Rotary award for English studies and more.
We don't select qualified teachers if they do not pass our selection process and in the past, we have chosen high achieving individuals over qualified teachers. This is because we look at ability rather than just a qualification. ATAR scores that are accepted in some university courses to become a qualified teacher are below a pass rate (ATAR 30-50) -
see this article from The Australian (2016)
. Your child deserves to learn from someone who has achieved at a high level themselves. Therefore, we select tutors based on real demonstrated ability to write and teach and each tutor goes through a rigorous selection process. Every tutor I personally select is someone I would want to tutor my own child.
Who ranks and gives feedback to my child's essays and how regularly is it checked?
One of our tutors who has passed our selection process will rank and give feedback to your child's submitted essays. We aim for a 72 hour turnaround time.
How many masterclass videos are there to choose from and how long is each masterclass video?
There are 96 masterclass videos that you can choose from and each video is at least 30 minutes in duration. There will be 46 masterclass videos covering argumentative/persuasive writing, 46 masterclass videos cover creative writing and 1 masterclass video each on time strategy and major tips for each of NAPLAN Year 3 & 5, NAPLAN Year 7 & 9, Selective schools tests and scholarship test.
How do I book in a drop-in writing practice session?
Through your dashboard, you'll be able to book in sessions that suit your schedule. You are able to book in a class more than 48 hours prior to it commencing.
What happens in a drop-in writing practice session?
A practice writing session is one where your child will be given a prompt, write a paragraph and given feedback along with participating in analyzing writing. There is no theory taught (that's done in the masterclass videos) but rather, the practice session is about practicing your writing and getting real time feedback, along with editing the writing other others. Drop-in writing practice sessions go for an hour and maximum attendee size is 4 students plus the tutor.
Is there any homework from the practice sessions?
The practice sessions are stand-alone sessions where students work on their writing and editing skills. There is no homework set that is to be completed after the session and then corrected in future sessions as each session is independent of each other. The writing prompts with ranking and feedback that your personal mentor allocates can be considered 'homework'.
What happens with writing ranking and feedback? Is it anonymous?
Writing pieces, ranking and feedback is publicly available, however, when you sign up, we allocate an anonymous username to your account so that you're not publicly identified. You can change this name to anything you like that is appropriate.
Have a question? Get in touch
---
---