3 Biggest Mistakes In Persuasive/Argumentative Writing & How To Avoid Them
We could give you thousands of tips on how to write for exam success. But… sometimes it's more helpful to know how NOT to write.
Read on to learn 3 biggest mistakes that can cost you precious exam points and how to avoid them. Each mistake is illustrated by a sample essay written by a real student.
Mistake 1: Not Addressing The Question
No matter how well-written your piece is, it's doomed to lose points (or even be disqualified) if you haven't addressed the writing prompt. A common mistake we see students make is answering a similar question (but not the question asked). For example, students may say that 'smoking is bad' and argue based on this stance, but the question is not asking whether or not smoking is bad, but rather, it's asking whether smoking should be banned (a different question altogether).
Take a look at the writing prompt below and decide whether the sample essay addresses the prompt. If your answer is 'no', think about what you'd change in the piece. When you've got the answer, see the video feedback from our writing expert below.
Writing prompt: "A friend in need is a friend indeed." Do you agree or disagree with this sentiment? Argue your point.
Source: Exam Success
Here's video feedback from our expert:
Mistake 2: Inappropriate Language & Tone
Another common mistake that can easily be avoided is the style of writing. Time and time again, we see students writing as though they were having a casual conversation or making demands as to how the reader should think. In general, persuasive writing should 'feel' formal.
Here are some general tips on how to sound more formal:
Replace "I" statements with impersonal sentences, e.g. I think smoking is bad –> Smoking is bad.
Avoid personal pronouns, e.g. you, your, her, we, etc.
Substitute slang, colloquial expressions with formal ones, e.g. fork out –> pay
Skip rhetorical questions, e.g. Do you really want this to happen to you?
Avoid excess punctuation (such as !!!), inappropriate emphasis (Do you REALLY want this?), and exaggerated claims.
Now, take a look at the sample essay below. What phrases would you delete or replace? When you've got the answer, see the video feedback from our writing expert below.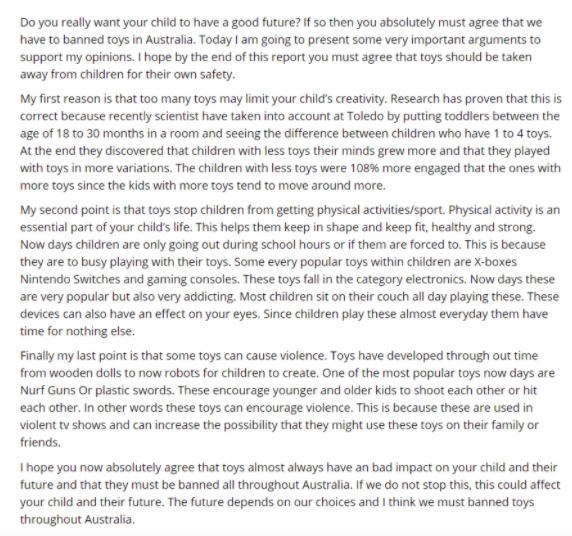 Source: Exam Success
Here's video feedback from our expert:
Mistake 3: Weak Or Repetitive Arguments
Selective school and scholarship test assessors are looking for sharp thinkers. Your choice of arguments should reflect that standard.

Good arguments should be clear, logical, and specific. When put together, they will present a good reason why you've adopted your particular stance.
To write strong arguments (and avoid weak or repetitive arguments):
Read the news – written expression topics for persuasive essays often touch upon current issues. Reading newspapers every day will help you familiarize with various topics and opinions on these topics that can be potentially transformed into arguments in your upcoming test.
Link the question to your experience – think carefully about how the issue at hand affects you or your community on the level of society, economy, and health. Suppose you're arguing for the right to wear make-up to school. Your potential arguments could be: that it encourages self-expression, increases personal mental-wellbeing and promotes a more inclusive society.

Take a look at the writing prompt and a sample essay below. Can you identify the problem with the arguments? What is it? After you've answered the question, check out the video feedback from our expert.
Writing prompt: Borrowing is an exchange where one person lends something to another and that person returns it at a later date. Sometimes, the borrowed item is never returned or is returned in a damaged condition. People should not be able to lend money to one another. Do you agree or disagree?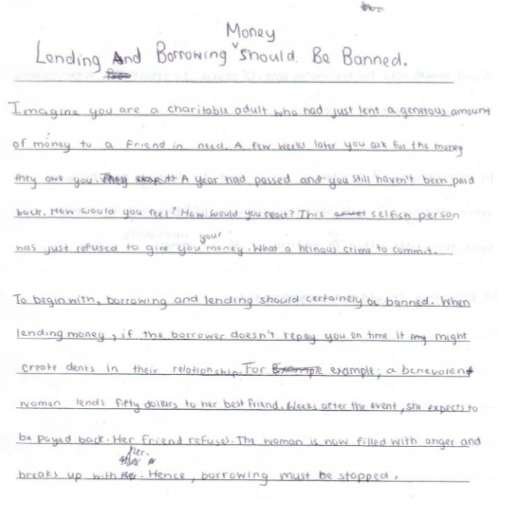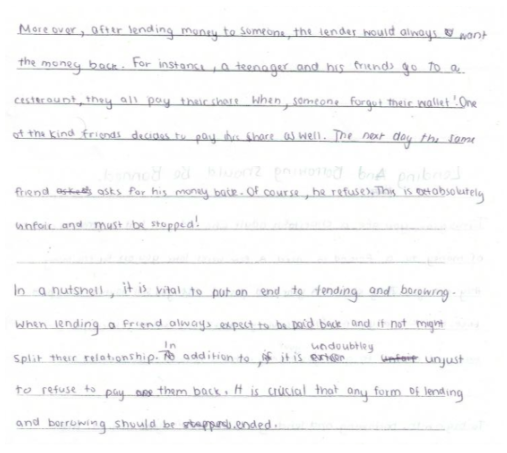 Source: Exam Success
Here's video feedback from our expert:
Want to learn how to craft a persuasive essay that examiners will love to read?
With Exam Success online persuasive and discussion writing course and writing clubs, you'll see your writing dramatically improve!
You'll learn what matters when examiners score writing pieces: what they're looking for and what would likely score the highest marks. And you'll also learn how to do what's expected step-by-step – no matter what topic you get on the test day.
Created by best-in-class experts, Exam Success learning resources will provide you with practical, no-nonsense guidance to writing a winning persuasive essay from the very beginning to the end.