How to Get a Good IELTS Band Score (7+)
We all know that to improve, we need to fix up our weaknesses. But that's easier said than done. Most times, it's hard to know what our weaknesses are unless someone points them out to us.
Sometimes, people don't know what's holding them back, even after they've done the IELTS exam 5 times, scoring the same Band 6 score!
Like this person:

I did the IELTS general training test and got an overall Band Score of 9 on the first attempt. Here are my IELT individual test band scores: writing 8.5, listening 8.5, reading 9, speaking 9.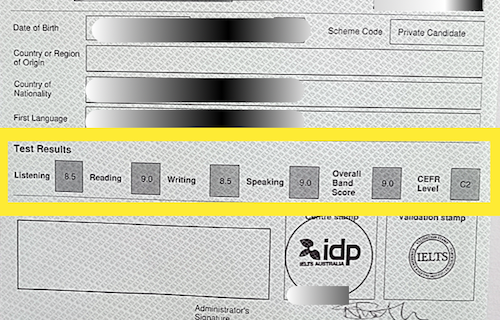 How did I get those scores, on the first attempt?
Because it really wasn't my first attempt, I had prepared beforehand. My first attempt (in the exam) was actually my 28th attempt when you include all the practice beforehand at home!
Like you, when I started on my IELTS test preparation, the amount of information was overwhelming and it was… scattered everywhere in no particular order. There were sample essays, sample questions and thousands of them. I didn't know where to start and it was stressful and frustrating!
So, I turned to someone I knew who had done the test before (who aced it!) to help guide me in each of the components, step-by-step.
For writing, I wrote essays on sample questions and got expert video feedback/corrections to help me understand where I was losing marks. And each time I submitted another essay, I'd receive tips designed solely for me so I improved my score each time. I knew where I was losing marks and was told what to do to fix it!
For reading and listening, because they were 'passive' tests, I did the free preparation provided by IELTS Australia. And strategically, to do well in these tests, you need to note down key information.
For listening, I downloaded questions and recorded my responses. My expert online IELTS tutor helped me to expand my responses and to correct the pronunciation of certain words.
In a nutshell, that's how I got an overall IELTS band score of 9. It's simple preparation, but with expert help along the way, from someone who has gotten Band 7+ before.