Exam Success helps students in Australia and abroad boost their exam scores and fulfill their academic dreams. On their own schedule.
Our mission is to give students on-the-go access to effective, affordable, and engaging online courses, test banks, and writing aid materials to conquer their competitive test and achieve their goals. Our self-paced test prep has helped students no matter where they are: Australia, Singapore, Saudi Arabia, or India…
Our service has expanded to cater for general improvement (when you're not preparing for a specific exam) and we are pleased to help students improve their English writing, reading, listening or speaking with innovative online learning programs.
We Believe Our Students' Success Stories Say It Best
Meet our former student, Jaze, who got offered a scholarship and a selective school spot after acing his competitive exams. Watch Jaze and his father Sonny talk about their experience with Exam Success online courses.
Now, read in the
Sydney Morning Herald article (October 2019) how Exam Success Writing Club helped our former student Nathan, SBS 2018 Child Genius winner, win a scholarship at a top private school
.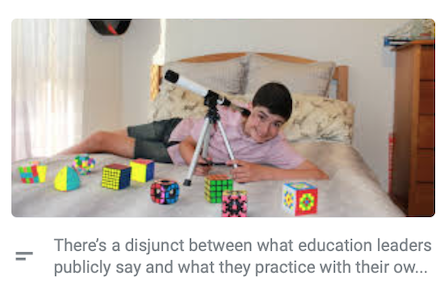 How Do We Do It?
Experienced and dedicated experts. Exam Success is not just another test prep company. You'll learn from high achievers on how you can earn your best score, too. We love our students and genuinely care about their achievements.
Customized proprietary content. We take many hours to create unique, easy-to-understand content and adapt it to each competitive exam. The result? Effective and structured online courses and practice tests that are shockingly similar to past exam papers. Prepare for a boost in test scores and confidence!
Focus on problem-solving. Sure, we want you to get as many correct answers as possible. But we also want you to do it fast. We walk our students through advanced test-taking strategies and approaches so they can handle even the toughest questions with graceful ease.
On-the-go learning. We know you're busy. That's why we created the self-paced test prep that fits around your schedule. Our online study materials work on mobile phones, tablets, and computers so that you can study how you want and when it's convenient.
Start Your Exam Success Story Today. See Our Most Popular Test Prep Resources!
Self-Paced Online Courses
All-around test prep at your fingertips. Get in-depth video explanations, valuable short notes, score-boosting exam strategies, and practice tests all in one place. It's almost like having your own on-demand private tutor at a fraction of a price. Learn more here.
Test Banks
Our test banks will help you practice like it's test day. With an in-built timed practice mode, our sample tests mirror the format and difficulty of your authentic exam so you can beat test anxiety and learn to race against the clock.
Not ready to be challenged? No problem. Choose the untimed mode and hone your technique as you study winning test-taking strategies and explanations that go with every single question. Did we also mention that every question comes with a detailed expert explanation video? Learn more here.
Writing Club
Learn to write A+ essays without agonizing over every single sentence. Discover your writing weaknesses through personalized written feedback and get actionable advice on how to turn those weaknesses into strengths.
Our students get higher scores in writing in just 5 weeks. Learn more here.
Testimonials
"I just wanted to say a BIG THANK YOU! your ADF aptitude test online was a great help. I passed my YOU Session and got all my job preferences. Thank you so much for answering all my questions. Keep up the good work and support." ~ Emma T. (exam: ADF You Session Aptitude Test, 2020)
"With the help of Vi's writing club and her detailed practice papers, my brother was able to attain a spot at Melbourne High school. 2 years later under Vi's tutelage, I was able to gain a place at Melbourne High as well … I sincerely thank all the tutors at exam success for if it wasn't for them, I would not be where I am today" ~ Rajas S. (Melbourne High School)
"I owe my place at a selective school to exam success! The feedback for my essays was amazing and so valuable, and i could see myself improving from an 'average' to 'superior' very quickly. I would 100% recommend!!!!!!" ~ Anoushka I. (a selective school in Victoria)
"Though their are many online options available ..but I would rate exam success as the Best Guide for competitive exam as they really understand what is expected and how much hours of training each student has to put in … I found Exam Success really flexible in their approach and all our request were never declined and accommodated as best as they can..i appreciate them for that...Approach is never that you pay and you get what is listed, they make sure your requirements are properly addressed to satisfaction" ~ Vilas B. (Brisbane State High School)
"Congratulations to your team and a special thank you to you, Vi Nguyen. My son had a very short time for the exam preparation and I am glad I found this website which is really helpful. The dedication and the efforts you have extended in supporting him was above the expectations, always responding his inquiries promptly and the issues very well explained. The material provided is great and helped a lot as well. Thank you again." ~ L.Matayoshi (a selective school in Victoria)
Our story
Exam Success was founded by Vi, a former University of Melbourne scholarship recipient and selective school student. Vi is the author of numerous test preparation books and to see if her books are available at your nearest library, please check here.
Vi has been quoted in various online and offline magazines, including:
Herald Sun
Domain Review
Hume Leader
The Sydney Morning Herald
As a past selective school student and a former 5-year scholarship holder, Vi has personally experienced the painful process of selective test prep.
"When do I start my exam preparation?"
"How will the test look like?"
"What should I focus on?"
Just like thousands of students and their parents preparing for a competitive exam, she was asking herself these questions too.
Vi had to learn the hard way about what works for competitive exam prep and what doesn't.
Having combined her personal journey with years of in-person tutoring, Vi decided to take all the guesswork out of competitive test prep and created Exam Success – an online one-stop-shop for the exam preparation that gets results. This time, the easy way.
"Vi is one of the few people in the selective school coaching industry who has been to a selective school, meaning she has first hand experience on what to expect during the exam." ~ Rajas S.
Exam Success looks forward to providing the support you need to help you ace your exams. If you have any questions, please do get in touch using the contact form below.
---